Construction year
2016
Model
TS 42 Marsaudon Composites
Boat size
13 mètres
Cabin number
4
Availability
Le Dahouet, La Trinité/mer, La Rochelle, Le Marin
OPEN SAIL offers you the TS 42 a fast cruising catamaran, built by MARSAUDON COMPOSITES, entirely design for both performance and comfort : High Tech construction, pleasant and enjoyable outfittings.
The aim for this project is « shared pleasure », the open space (not divided) between outside and inside gives the TS42 a much larger living space.
Offset helm stations allow a good vision forward and on the rig, easy access to the tuning of the sails. This is very much like the helm position found on dinghies. All of this optimizes the tuning.
The access to the hulls is watertight, there are dagger boards
The rig is very simple: no spreaders (carbon version), lower shrouds and staysail with short and stiff luff, which makes it more efficient. The rig is also quite set back to maintain a good self-tacking forward sail surface.

Sleeps 8 : 2 double cabins, 2 single cabins and a double berth in the saloon.

The rest area, very enjoyable, offers a 360° sea view. This particular spot allows participation to life onboard, without getting in the way of the rest of the crew. This is also a perfect spot to keep an eye on a child while he's taking a nap.
The kitchen is really spacious, especially considering the size of the boat.
You will also find a large bathroom in each hull.
The aft cabins are full of light, with a nice view on the aft of the boat.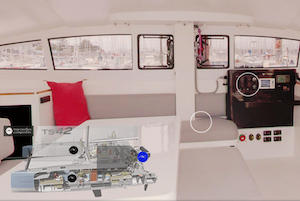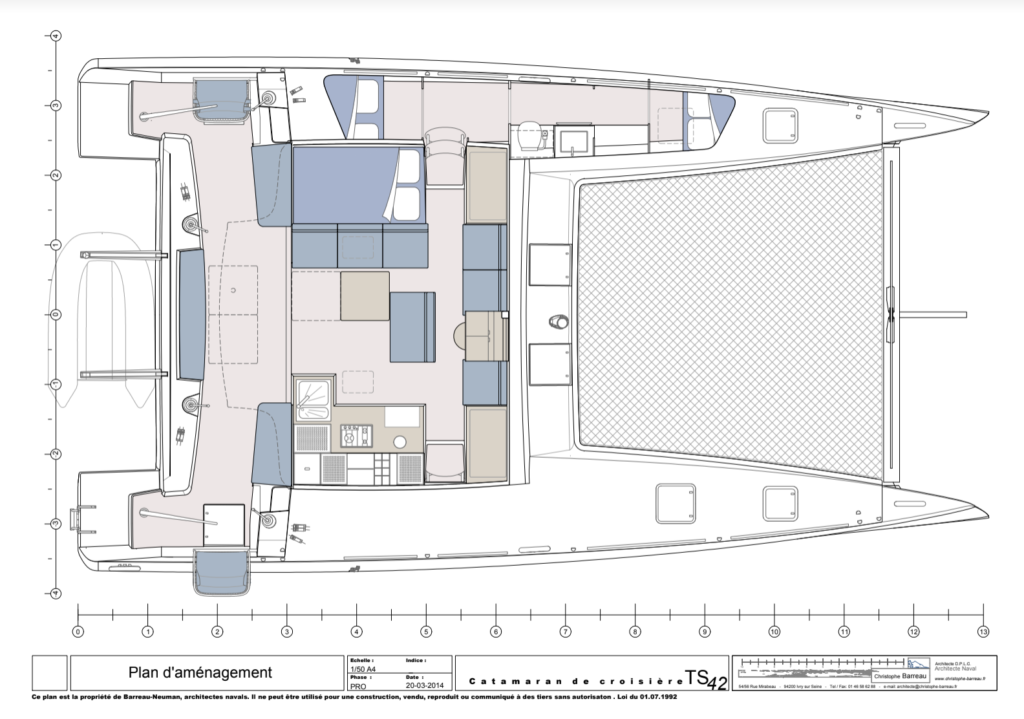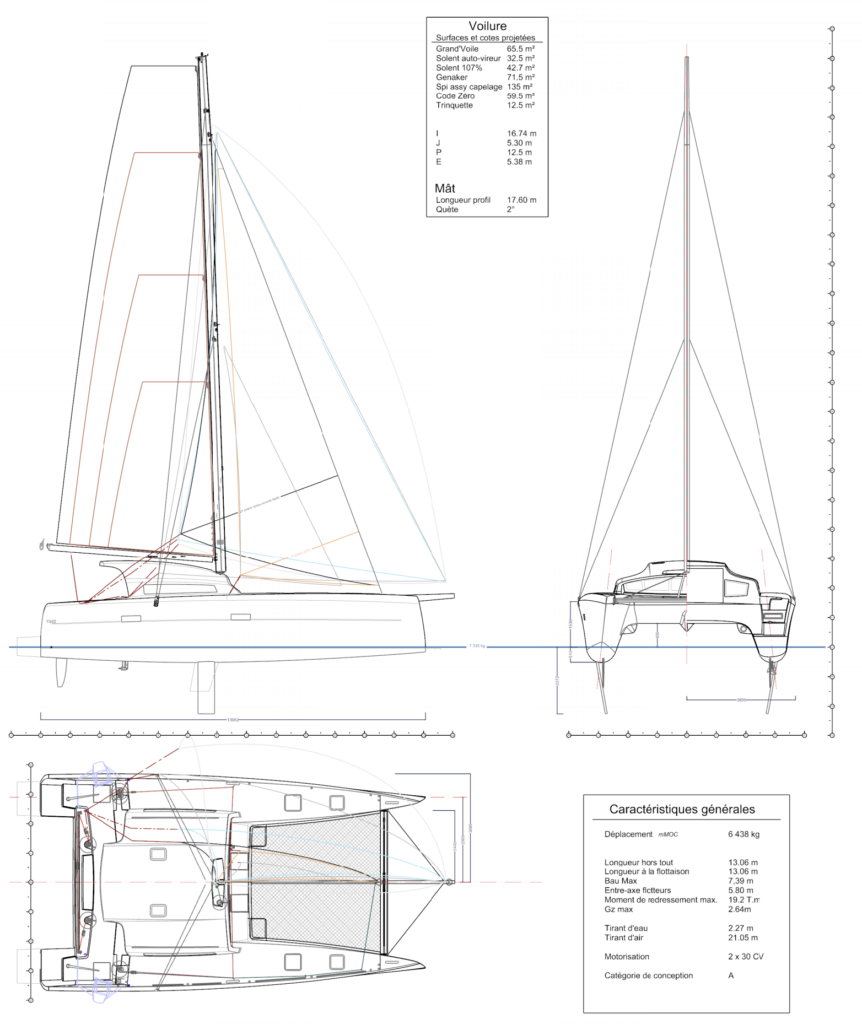 Construction year : 2016
Hull lenght : 13m
Width : 7m39
Draught : 2m27
Displacement : 6,5t
Mainsail : 65.5 m²
Staysail : 12.5 m²
Genoa : 42.7 m²
Gennaker : 71.5 m²
Spinnaker : 135 m²
Port hull:
1 double berth
1 toilet / shower room
1 single berth at the front

Starboard hull:
1 double berth
1 toilet / shower room in front
1 single berth

Central hull:
1 double bed
1 kitchen (oven, 4 gas stove fires, sink, drainer, etc.)
1 dining table
1 watch chair
2 helmsman seats
4x cockpit lockers
4x mooring cleats
1 swimming ladder
3 double cabins
Hulls, platform, deck and structure : lamination of composite parts in a female tool using infusion process.
Carbon mast
Double tillers and direct transmission by rigid carbon tube (suspended rudders on stokes and articulated with self-aligning roller bearings)
Two dagger boards
Bowsprit
Aluminum mast, anodized grey, length (17.60m)
Two inboard diesel engines 30 CV with sail drive transmission
Two dual folding blade propellers
Start-up battery with 60 Amp engine
Fresh water capacity : 2 x 100 l
Diesel capacity : 2 x 90 l
Mainsail with 3 reefs
Genoa on furler
Staysail on furler
Gennaker on furler
Spinnaker with sleeve
A chart table with desk, storage and electronics support console
Outdoor navigation system
Gps
Autopilote
VHF DSC
AIS transmitter / reciever
Pontoon charger
Inverter
12 V electrical circuit with control panel by chart table
Two service batteries of 115 Ah each
Solar panel
Water maker
Hot water
A saloon including a mobile table, a fixed 3 places seat with saddlery, a rest area that can be used as an extra double berth
Equipped galley including sink with dish rack, a stove, a air-cooled refrigerator, and a bin integrated onto the counter top
MP3
Cockpit sun protection
Fixed cockpit table
Two manual toilets and a holding tanks
1000W windlass
Safety material
8 auto inflating life jackets
Tender with outboard engine
Kitchen utensils
Stand up Paddle
Nautical guides and maps