> YOUR CONTACT ON THE SPOT
Benjamin FOELLER  
+33 (0)6 80 22 83 68
benjamin@mistral-marine.com
Bassin d'honneur port de Bormes, 83230 Bormes-les-Mimosas
Please contact us just before coming to organize your arrival, the meeting takes place at the office.
> PLACE OF APPOINTMENT
Bormes les Mimosas harbor – Localisation
> MAP
The car parks are easily accessible all around the marina and on the dyke for 12€ per day (closed and guarded car park). There is also a parking before the port, sailing club side, also paying but not monitored.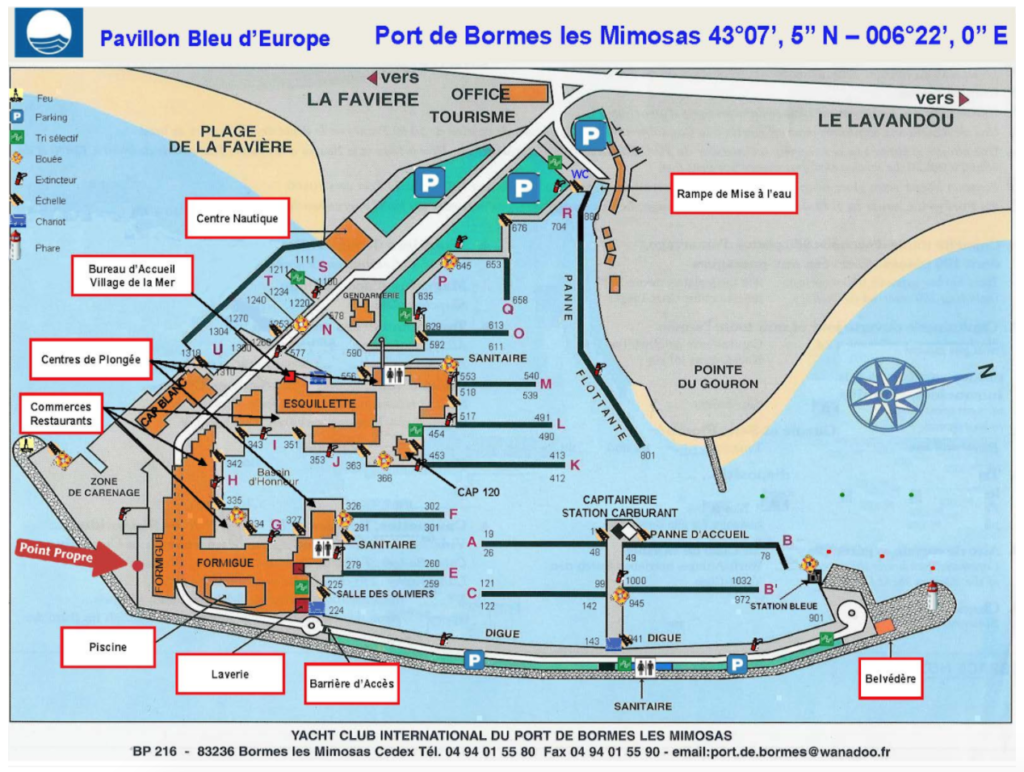 > SUPPLYING
Le petit Casino de la Faviére (groceries directly on board) – Location
Intermarché Le Lavandou – Location
Casino Supermarché – Location
> ACCESS TO THE BASE
BY PLANE
Toulon/Hyères international airport : 20 kms from the base / Tél. 0825 018 387 / bus connection (Varlib), shuttle or taxi / +33 4 94 24 60 00 / toulon-hyeres.aeroport.fr
Marseille Provence airport : 130 kms from the base / Tél. +33 820 81 14 14 / Taxis : + 33 4 93 85 66 61 / marseille.aeroport.fr / mp2.aeroport.fr
Nice Côte d'Azur airport : 130 kms from the base / 0 820 423 333 / Taxis : + 33 4 93 13 78 78 / nice.aeroport.fr
BY TRAIN
TGV station : 8 minutes by car to the harbor, Tél. 36 35 (Hyères : 20 km / Toulon : 40 km / St-Raphaël : 70 km) / sncf.com/fr
BY TAXI
06 41 98 11 72
06 14 34 29 43
06 59 45 50 97
BY BUS
VARLIB : lines 7801, 7802, 7803 et 8816 / 3€ per journey (5€ round trip) / Tél. + 33 9 70 83 03 80 / varlib.fr